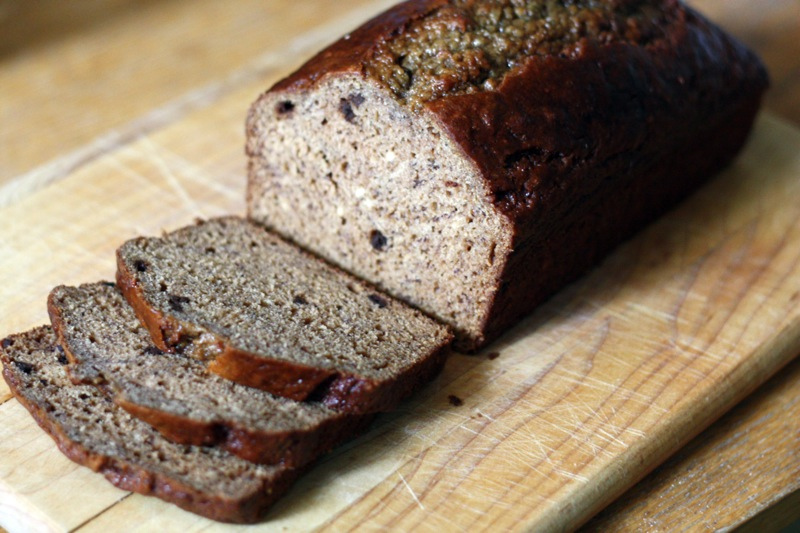 One of the perks of having an awesome client like Marina of My Better Butter is that every time I see her she sends me home with a jar (or two) of her delicious peanut butter spread. I have to restrain myself so that I don't eat the entire thing in one sitting.
As I was working on the website I couldn't help but to start brainstorming recipe ideas. That's just what I do. And, since half of my freezer is being taken up with super-ripe bananas (I really should stop buying bananas), I thought a banana bread would be the perfect starting point.
And then I went and cut my hand on a broken plate, rendering my right hand 95% useless. Fun. I haven't cooked anything for nearly a week. Last night I decided I could probably make banana bread one-handed, and fortunately it turned out pretty well.
I basically replaced the butter in my favorite banana bread recipe with Nutty Chocolate Chip Better Butter. It gives the bread just a hint of chocolate flavor with tiny chocolate chips strewn throughout.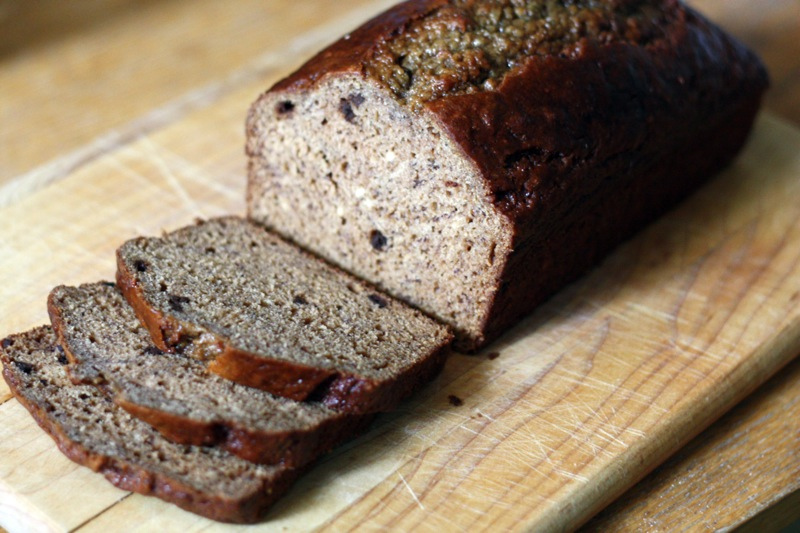 Update: Unfortunately, Marina is no longer making/selling her delicious peanut butters. It was a sad day when she told me she had decided to close up shop. I've updated the recipe to include substitutions to the Better Butter originally called for.
2 cups (9 oz) flour
2 tbsp cocoa powder
2/3 cup sugar
3/4 tsp baking soda
1/2 tsp salt
3 large ripe bananas
6 tbsp peanut butter
1/4 cup buttermilk or plain yogurt
2 eggs, lightly beaten
1/4 cup mini chocolate chips
Adjust oven rack to lower-middle position and heat the oven to 350°F. Grease and flour the bottom and sides of a nonstick loaf pan, or just the bottom of a regular loaf pan. (I use an 8"x4" pan although the original recipe suggests a 9"x5" pan. Bake it about 10 minutes longer if using the smaller size pan.)
Whisk the flour, cocoa powder, sugar, baking soda, and salt together in a large bowl; set aside.
Mash together the bananas, peanut butter, buttermilk (or yogurt), and eggs in a medium bowl. I used a potato masher for this but a hand mixer or even a blender would work. Lightly fold the banana mixture and chocolate chips into the dry ingredients with a rubber spatula until just combined and the batter looks thick and chunky. Scrape the batter in the prepared pan.
Bake until the loaf is golden brown and a toothpick inserted in the center comes out clean, about 55 minutes (65 minutes for a smaller pan). Cool in pan for 5 minutes, then transfer to a wire rack. Serve warm or at room temperature. (The bread can be wrapped with plastic wrap and stored at room temperature for up to 3 days.)