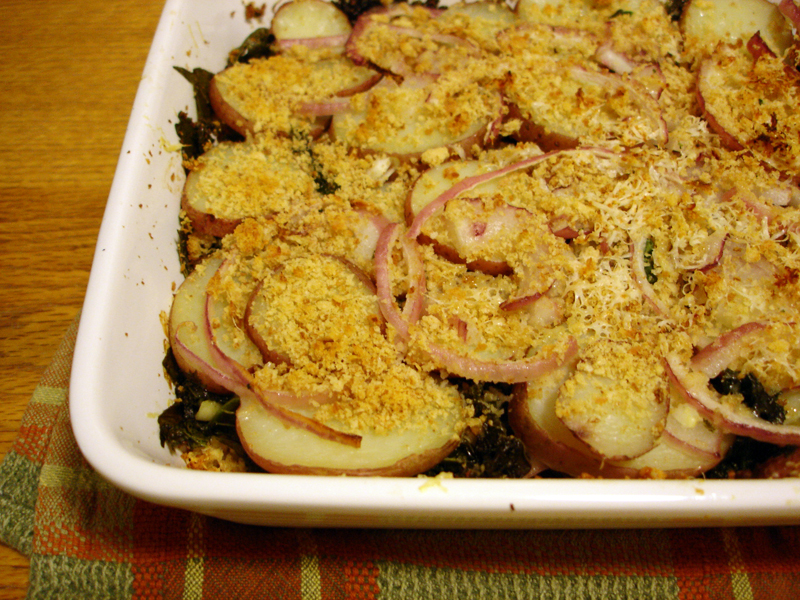 Jump to recipe
Dinner tonight was roasted chicken and this kale and potato gratin. The aroma coming from the oven was amazing. I really enjoyed this gratin. The soft potatoes and garlicky kale are so good together. I added some red onion because I had some to use up, and I think it made it that much better.
Kale & Potato Gratin

Ingredients
1 1/2 pounds thin-skinned boiling potatoes such as red potatoes, sliced 1/4-inch thick
1 bunch kale, stems removed and leaves cut in 1/2-inch thick shreds
1/4 cup olive oil
4 cloves garlic, minced
2 tsp coarse salt (note: this was a bit too much salt - next time I would try 1 tsp)
1 tsp pepper
1/2 medium red onion, thinly sliced
bread crumbs
grated Parmesan cheese
Instructions
Preheat oven to 400°F.
Boil potatoes in salted water for about 2-3 minutes, until tender, but not cooked through. Drain into a colander and rinse with cool water. Set aside.
In a large bowl, combine the olive oil, garlic, salt and pepper. Add the kale and rub the olive oil mixture aggressively into the leaves. Layer the kale, potatoes, and onion alternately with a sprinkling of bread crumbs and Parmesan in a 2 quart glass or ceramic baking dish.
Cover with foil and bake for 30 minutes. Remove foil and bake another 15 minutes, until top is crispy.