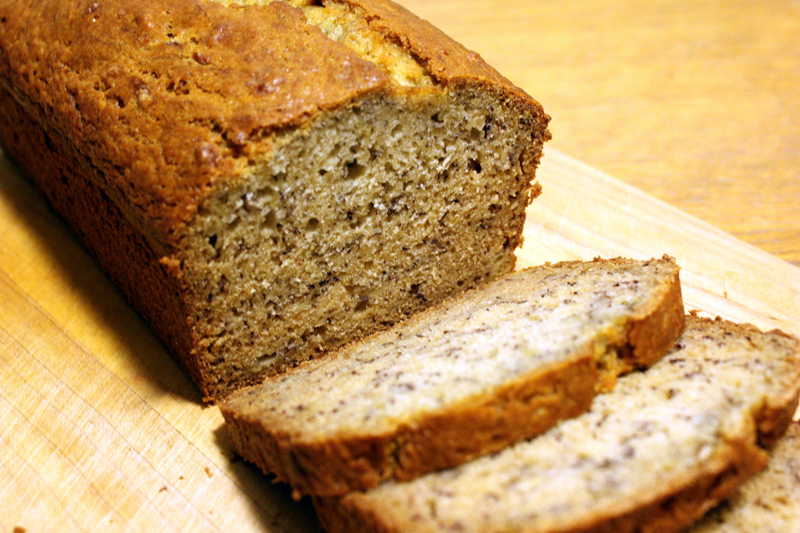 Jump to recipe
I always seem to have old bananas. I try to only buy 2 or 3 at a time so I can eat them before they get too brown, but I guess my preferred window of ripeness is too short. At least there's always banana bread.
Banana Bread

Ingredients
2 cups (9 oz) unbleached all-purpose flour
3/4 cup (5 1/4 oz) sugar
3/4 tsp baking soda
1/2 tsp salt
3 very ripe, soft, darkly speckled large bananas, mashed well (about 1 1/2 cups)
1/4 cup plain yogurt
2 large eggs, beaten lightly
6 tbsp (3/4 stick) unsalted butter, melted and cooled
1 tsp vanilla extract
Instructions
Adjust oven rack to lower-middle position and heat the oven to 350°F. Grease and flour the bottom and sides of a nonstick loaf pan, or just the bottom of a regular loaf pan. (I used an 8"x4" pan although the recipe suggests a 9"x5" pan. It worked fine, just had to bake it about 10 minutes longer.)
Whisk the flour, sugar, baking soda, and salt together in a large bowl; set aside.
Mix the mashed bananas, yogurt, eggs, butter, and vanilla with a wooden spoon in a medium bowl. Lightly fold the banana mixture into the dry ingredients with a rubber spatula until just combined and the batter looks thick and chunky. Scrape the batter in the prepared pan.
Bake until the loaf is golden brown and a toothpick inserted in the center comes out clean, about 55 minutes (65 minutes for a smaller pan). Cool in pan for 5 minutes, then transfer to a wire rack. Serve warm or at room temperature. (The bread can be wrapped with plastic wrap and stored at room temperature for up to 3 days.)

Chocolate Banana Bread Variation

Add 1/4 cup cocoa powder with flour mixture, and fold in 1/2 cup mini chocolate chips.
07.11.2017 – tried this in the Instant Pot today. 1 cup of water in pot, 8″ cake pan on trivet. 50 min High Pressure, 10 min natural release, then quick release. Let cool in pan.
I don't think this cooked long enough. The bread is very dense and a bit underdone. Might work better in a bundt pan and add 5-10 min.