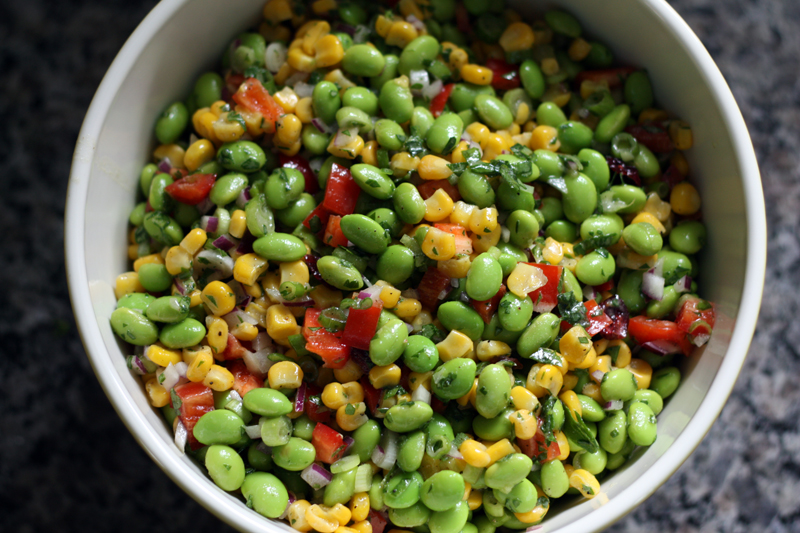 Jump to recipe
For our Father's Day celebration I offered to bring this salad because it's simple to make and a crowd pleaser, but when the store only had unshelled edamame, the simple factor went out the window. Instead of going to another store, I stood over the sink and shelled 3 bags of edamame. The payoff was that the beans tasted fresher after being frozen in their shells. At least, that's what I'm telling myself.
This salad is best after a couple hours in the fridge. At first, the onions and mustard may seem a bit pungent, but they mellow nicely.
Edamame Salad

Ingredients
1 lb frozen shelled edamame
3 cups frozen sweet corn kernels
1 chopped red bell pepper
3/4 cup sliced green onion
1/2 cup finely chopped red onion
1/4 cup dried cranberries
1/4 cup chopped fresh Italian parsley
2 tablespoons chopped fresh basil
Dressing
1/3 cup fresh lemon juice (about 3 lemons)
2 tablespoons Dijon mustard
2 tablespoons olive oil
3/4 teaspoon salt
3/4 teaspoon fresh ground black pepper
Instructions
Prepare edamame and corn according to package directions. Drain and rinse with cold water. Set aside to drain thoroughly. (My edamame was precooked, and I didn't bother cooking the corn, I just rinsed it with cool water to thaw it out.)
In a large bowl, combine edamame, corn, red bell pepper, green onion, red onion, dried cranberries, parsley, and basil.
In a small bowl, whisk together dressing ingredients. Pour over vegetables and stir well. Refrigerate until ready to serve.