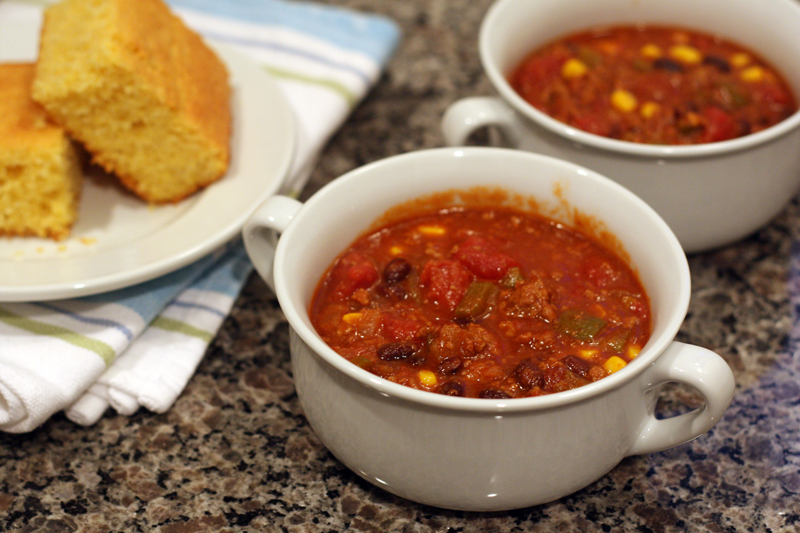 Jump to recipe
Updated – originally posted November 2, 2008
Some of my favorite recipes are the ones I grew up with. This is based on my mom's recipe for chili, which she always served with corn bread. It makes a regular occurrence at our dinner table and it hits the spot every time.
UPDATE 10.07.16 – This chili won a chili cook-off! Admittedly, it was a small contest, a fundraiser for my son's preschool, and most of the other 6 entries were not traditional. But still a proud moment! The only thing a did differently this time was cook it low and slow for about 5 hours.
UPDATE 02.21.17 – Tested this in the pressure cooker – 20 minutes at high pressure, NPR 10 minutes, then added the beans and corn. I ended up leaving it on slow cook for a couple more hours, not because it needed it, but because we weren't going to eat for a while. Turned out great!
Chili con Carne

Ingredients
1 lb ground beef
1 medium onion,chopped
3-4 cloves garlic, minced
1 large green pepper, chopped
1 tsp salt
1 tbsp chili powder
1/4 tsp cayenne pepper
1/4 tsp paprika
1 tsp cumin
28 oz can (or 2 14 oz cans) diced tomatoes
15 oz can tomato sauce
1 15.5 oz can black beans or kidney beans, drained and rinsed
1 cup corn (fresh or frozen)
Instructions
Cook and stir ground beef, onion, garlic, green pepper, salt, and spices in large pan until meat is brown and onion is tender. Stir in tomatoes and sauce.
Heat to boiling. Reduce heat; cover and simmer 2 hours, stirring occasionally. Stir in beans and corn; heat through.
Serve with corn bread.