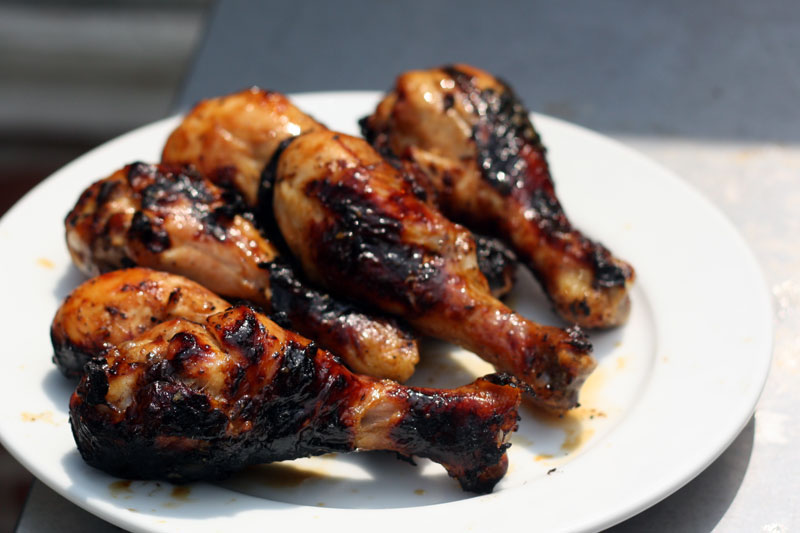 Jump to recipe
Matt has decided that he wants to hone his grilling skills this summer, which couldn't make me happier! He's been out of practice ever since I kind of took over the meal preparation when I moved in, 4 years ago. Not that I ever discouraged him from manning the grill. In fact, standing over a fire is the last thing I want to do on a hot summer day.
He picked out this recipe over the weekend and I helped him adapt it according to the ingredients we had available. It's nice to have a cooking partner!
Marinated Grilled Chicken Legs

Ingredients
Marinade
1 cup fresh orange juice
juice from one lemon
4 teaspoons low-sodium soy sauce
1 tablespoon rice cooking wine
3 cloves garlic, minced
1 1/2 teaspoons balsamic vinegar
1 teaspoon sesame oil
1/2 teaspoon salt
1/2 teaspoon sriracha
8 chicken drumsticks (or 4 whole legs)
Instructions
Whisk together marinade ingredients. Place chicken in a large zip-top plastic bag. Add marinade; seal. Marinate in refrigerator 2 hours, turning bag occasionally.
Prepare grill.
Remove chicken from bag, reserving marinade. Place reserved marinade in a small saucepan; cook over medium heat 3 minutes. Place chicken on grill coated with cooking spray; grill 30 minutes or until chicken is done, turning and basting occasionally with reserved marinade.