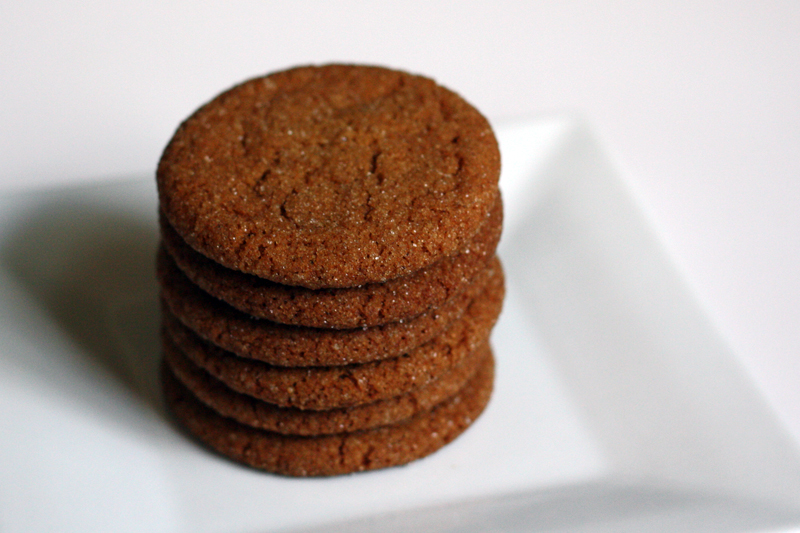 Jump to recipe
Updated – originally posted November 26, 2008
This is an old family favorite. The recipe came from my grandmother and she used to make these cookies all the time. Whenever we went to visit she would have a tin of them waiting for us. They're similar to gingersnaps, but they're soft and chewy. Perfect for the holidays. Or any time of year, really!
For a long time we thought that using shortening was essential to get the right spread and chewiness. Once, my mother accidentally used butter and they just weren't the same. I don't like to buy hydrogenated vegetable oil so I've been trying to come up with an alternative. It finally dawned on me to try coconut oil, so I did and it worked beautifully!
Molasses Sugar Cookies

Ingredients
3/4 cup shortening or coconut oil, melted and cooled
1 cup (7.5 oz) sugar
1/4 cup molasses
1 egg
2 teaspoons baking soda
2 cups (9 oz) sifted flour, substitute half for whole wheat if desired
1/2 teaspoon cloves
1/2 teaspoon ginger
1 teaspoon cinnamon
1/2 teaspoon salt
Instructions
Combine coconut oil, sugar, molasses and egg and beat with mixer. Sift together flour, salt, baking soda and spices; add to first mixture and mix well. Refrigerate dough for about an hour, or until chilled.
Preheat oven to 375°F.
Form into 1" balls, roll in granulated sugar and place on greased cookie sheet 2" apart. (note: I use a parchment lined cookie sheet and it works fine). Do not press down. Bake for 10 minutes, rotating pan after about 8 minutes to bake evenly. Cool on wire rack.