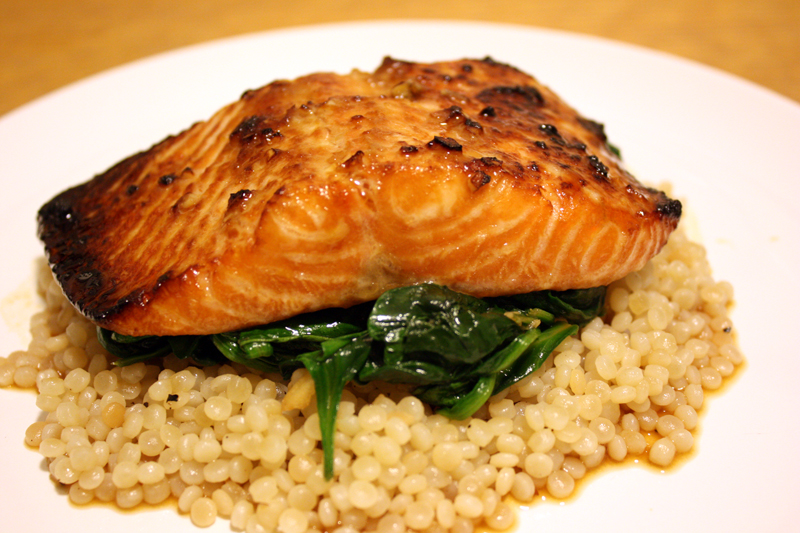 Jump to recipe
I was just planning on picking up some chicken to make for dinner, but when I walked by the fish counter I saw the salmon and thought, what the hell. I never buy fish, and we really should eat it more often.
This turned out perfectly.
Asian Glazed Salmon

Ingredients
2 tbsp low sodium tamari (or soy sauce)
1 tbsp sesame oil
1 tbsp honey
1 tbsp fish sauce
2 cloves garlic
1 tbsp fresh grated ginger
2 6-oz salmon filets
israeli couscous
1 bag baby spinach
1/2 tbsp olive oil
2 cloves garlic
Instructions
Whisk together tamari, sesame oil, honey, fish sauce, garlic, and ginger. Place salmon filets in a shallow dish just big enough to accommodate them and pour the marinade over them. Let marinate in the refrigerator for about an hour.
Preheat broiler (I used the toaster oven broiler). Remove the salmon, reserving the marinade, and broil until flaky, about 10-15 minutes.
Cook couscous according to package instructions.
Meanwhile, heat olive oil in a large saute pan. Add garlic and saute for a minute. Add reserved marinade and bring to a boil. Add spinach and saute until wilted.
Serve the salmon over the couscous and spinach, spooning any extra sauce over top.