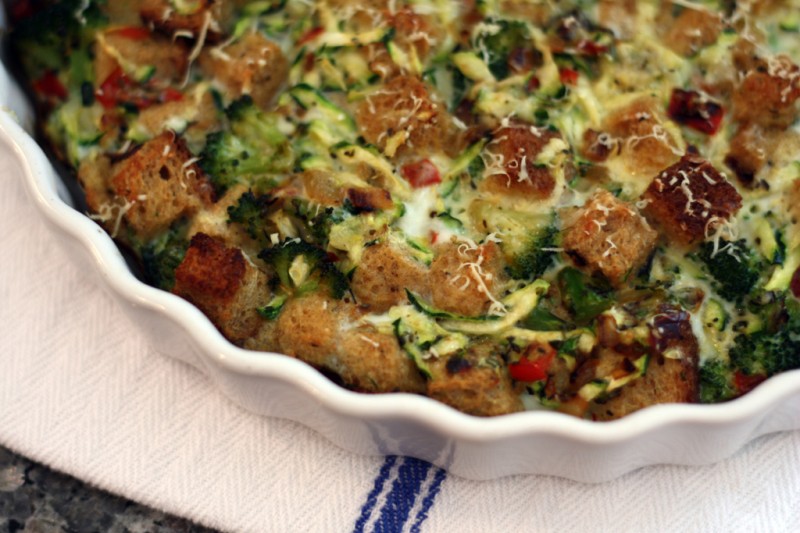 Jump to recipe
I have a tendency to buy vegetables then let them sit in the fridge until they go limp and start growing fuzz. It's wasteful and it makes me sad so I've decided to quit. Cold turkey. No more rotting vegetables!
This is a good weekend breakfast or brunch dish to make use of the extra vegetables you may have laying around. I had broccoli, a small zucchini, and part of a red pepper. Whatever you have, just shred it or chop it up pretty small and saute with some onion and garlic. Toss it with some cubed bread, your choice of herbs and cheese and top it off with beaten eggs and milk.
Breakfast Strata

Ingredients
1 tbsp olive oil
1/4 cup onion, scallions, shallots, or leeks, finely chopped
1 clove garlic, minced
1 1/2 cups mixed vegetables, shredded or finely chopped (zucchini/summer squash, broccoli, peppers, asparagus, greens, tomatoes, artichoke hearts, peas, etc)
2 slices whole wheat sandwich bread, cubed
1/4 - 1/2 cup shredded/crumbled cheese (or more, if desired)
1 tsp dried herbs or 1 - 2 tbsp chopped fresh herbs (basil, oregano, thyme, chives, parsley, etc)
3 eggs
1/2 cup milk
1/2 tsp salt
1/4 tsp freshly ground black pepper
Instructions
Preheat oven to 375°F.
Heat olive oil in a large pan. Saute onion, garlic, and vegetables until soft. Remove from heat and let cool slightly.
In a large bowl, combine bread cubes, cheese, herbs, and cooked vegetables. Arrange in a baking dish (about 9-inch round or 8-inch square).
In a medium bowl whisk together eggs, milk, salt and pepper. Pour slowly and evenly over the bread/vegetable mixture.
Bake for about 25 minutes, or until set. Remove from oven and let cool 5 minutes before serving.