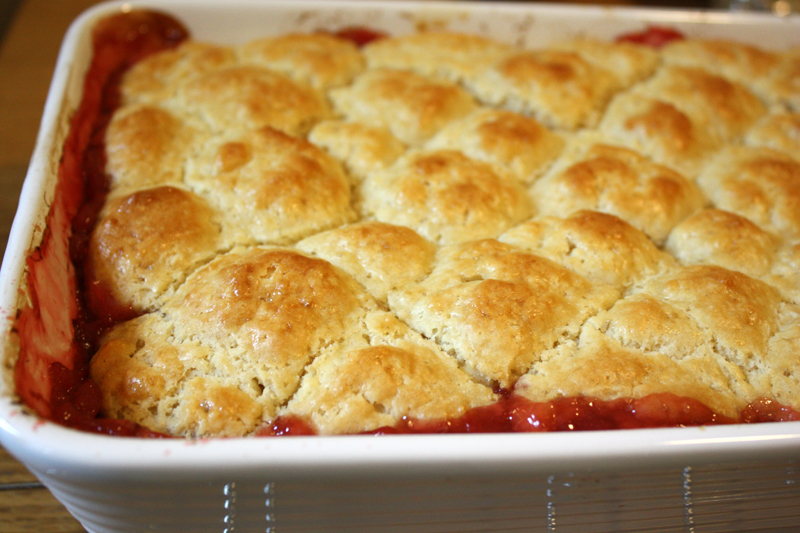 Jump to recipe
Strawberry Rhubarb Cobbler

Ingredients
Filling
6 cups total strawberries and rhubarb, cut into 1/2 inch pieces
zest of 1 lemon
1/2 cup sugar
2 tbsp cornstarch
Topping
2 1/2 cups flour
2 tbsp baking powder
2 tbsp sugar
1/2 tsp salt
1 stick (1/2 cup) butter, cut into 1/2-inch cubes
1 1/3 cups milk
Instructions
Preheat oven to 375°F.
Combine filling ingredients in a large bowl. Pour into an ungreased 8x8-inch square baking dish (preferably glass or ceramic - the acidic filling can corrode a metal pan).
Combine flour, baking powder, sugar, and salt in a large bowl or a food processor. Whisk or pulse to combine. Add cubes of butter and cut in with a pastry blender or pulse in food processor until mixture resembles coarse meal. Add milk and stir until a wet dough forms, then drop by spoonfuls on top of the filling.
Brush topping with beaten egg thinned with a tablespoon or two of water. Sprinkle lightly with sugar, then bake until filling is bubbly and topping is golden, about 45-50 minutes. Cover with foil if the topping starts to get too brown before the filling is done.
Cool at least 15 minutes before serving. Serve with whipped cream, if desired.