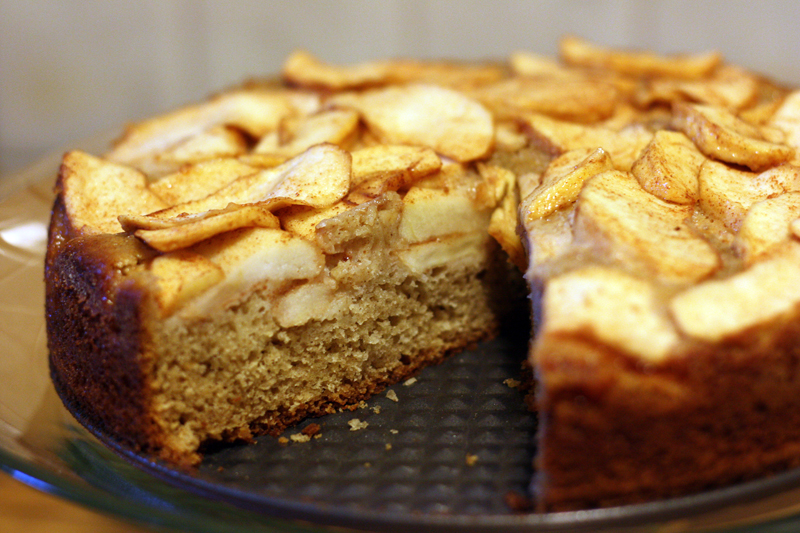 Jump to recipe
As the boys watched football I got restless and decided to make a cake. This is based on an almond apple cake that I made last year and wasn't crazy about. I left out the almonds and added a good dose of cinnamon and homemade rum vanilla extract, and I think we finally have a winner!
Apple-Cinnamon Cake

Ingredients
3-4 apples, peeled and thinly sliced (I used a combination of varieties)
1/4 cup granulated sugar
1/2 tsp cinnamon
1 1/2 cups all purpose flour
3/4 cup granulated sugar
1 1/2 tsp baking powder
1/2 tsp baking soda
1/4 tsp salt
1 tsp cinnamon
pinch freshly ground nutmeg
2 eggs
2/3 cup plain yogurt
1/4 cup butter, melted
1-2 tsp vanilla extract
Instructions
Preheat oven to 350°F. Butter and flour a 9 inch springform pan.
Combine the apple slices, 1/4 cup sugar, and cinnamon. Stir to coat. Set aside.
In a large bowl, stir together flour, sugar, baking powder, baking soda, salt, and spices. In a medium bowl, beat eggs. Add yogurt, butter and vanilla extract. Stir wet ingredients into the flour mixture just until combined.
Pour the batter into prepared pan. Arrange apple slices over the batter, reserving the syrup that has collected in the bowl. Pour the reserved syrup evenly over the top.
Bake for about 1 hour or until cake tester inserted in the center comes out clean.