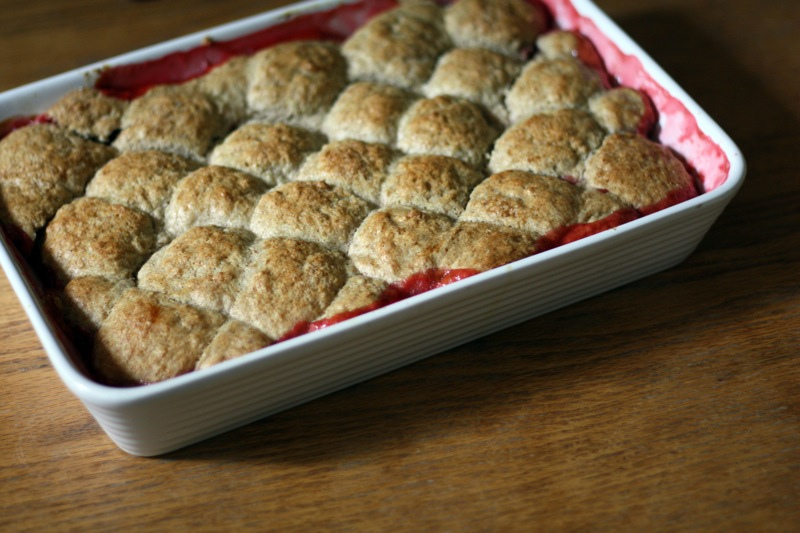 Jump to recipe
Today is my parents' 40th wedding anniversary. We're having a little get-together for them. My garden is bursting with rhubarb so dessert's on me.
Notes: The whole wheat was good. The filling was not too sweet, which paired well with the vanilla ice cream. I didn't notice the nutmeg so I'll probably skip it next time. This fed about 13-14 people with some leftover. (There were also some Italian pastries from the bakery.)
Strawberry Rhubarb Cobbler with Whole Wheat

Ingredients
Filling
5 cups rhubarb (1/2 inch pieces, about 1 1/4 lbs)
5 cups strawberries (quartered, about 1 1/2 lbs)
1/4 tsp nutmeg
1 tbsp orange liqueur
3/4 cup sugar
3 tbsp cornstarch
Topping
1 1/4 cups white pastry flour
1 1/4 cups whole wheat pastry flour
2 tbsp baking powder
1/4 cup sugar
1/2 tsp salt
1 stick (1/2 cup) butter, cut into 1/2 inch cubes
1 cup milk
Instructions
Preheat oven to 375°F.
Combine filling ingredients in a large bowl. Pour into an ungreased 9x13-inch baking dish (preferably glass or ceramic - the acidic filling can corrode a metal pan).
In a large bowl, whisk together the flours, baking powder, sugar, and salt. Add the butter cubes and toss to separate and coat them with flour. Rub the butter into the flour using hands, until the mixture becomes sandy. Add milk and stir until a wet dough forms, then drop by spoonfuls on top of the filling.
Brush topping with beaten egg thinned with a tablespoon or two of water. Sprinkle lightly with sugar, then bake until filling is bubbly and topping is golden, about 45-50 minutes. Cover with foil if the topping starts to get too brown before the filling is done.
Cool at least 15 minutes before serving. Serve warm or at room temperature with vanilla ice cream or whipped cream if desired.