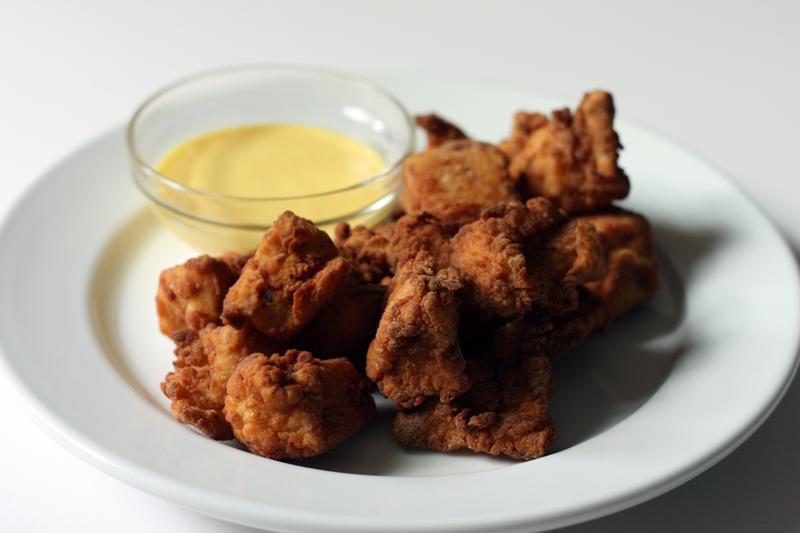 Jump to recipe
This recipe caught my eye because it promised to taste just like Chick-fil-a nuggets. I made them for a family party and they were such a hit that my brother asked me to make them for my niece's birthday party.
The nuggets are great, especially with the honey mustard dressing. This recipe makes enough for a small crowd, but if you don't have a small crowd leftovers can be frozen for up to a month.
Chicken Nuggets with Honey Mustard Dressing

About the frying - I've found that the first batch gets very brown very quickly, so I fry one or two nuggets to start off with. The oil will "cool" a little after you start frying. As long as it stays around 330° to 340° it should be fine.
The first time I made the dressing I didn't think there would be enough for all the nuggets, so I made a double batch. Then I ended up having half of it left over. This amount should work fine, but by all means, make a little extra, just in case. Leftover dressing will keep for a few weeks (or even longer?) in the fridge.

Ingredients
Nuggets
1 1/2 cups milk
2 eggs
1 tbsp salt
3 lbs boneless, skinless, chicken breasts, cut into bite-sized pieces
2 1/2 cups flour
1/4 cup powdered sugar
4 tsp salt
1 tbsp pepper
1 liter canola oil (for frying)
Dressing
1/2 cup mayonnaise
2 tbsp yellow mustard
1/4 tsp garlic powder
1 tbsp vinegar
2 tbsp honey
dash of paprika
Instructions
In a large bowl, whisk together milk, eggs, and 1 tablespoon salt. Add chicken pieces and stir to coat. Cover and refrigerate for 2 to 4 hours, or overnight.
Combine dressing ingredients in a small bowl and refrigerate until needed.
In a large zip top bag, combine flour, powdered sugar, salt, and pepper. Seal bag and shake to combine.
Heat oil in a dutch oven or deep pot over medium high heat until the temperature reaches 375°F.
With a slotted spoon, transfer half of the chicken from the marinade to the flour mixture. Seal bag and shake to coat all the pieces. Fry nuggets a few at a time, shaking the excess flour off before carefully placing in the oil (hot oil splashing onto your skin is not pleasant). It should take 3-4 minutes per batch, depending on the size of your chicken pieces. Remove with a slotted spoon (I use one of these spider strainers, which works great) to a baking sheet lined with paper towels.
These are best served immediately, but can also be frozen or refrigerated then reheated in the oven at 400°F for about 15 minutes.